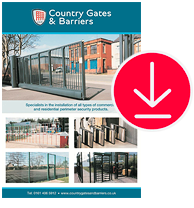 Download our Commercial & Industrial Brochure Here
CGB are specialists in the supply & installation of all types of Perimeter Security for commercial premises, including; Gates, Perimeter Protection, Barriers, Bollards, Road Blockers, Turnstiles and Parking Revenue Systems. We can offer a range of solutions to suit a multitude of entrance systems and openings. Download our brochure on the right to view our complete range of products.
COMMERCIAL BARRIERS AND INDUSTRIAL SECURITY PRODUCTS  INSTALLED AND AUTOMATED THROUGHOUT THE NORTH WEST
We also maintain and service commercial barriers, car park Management systems and access control
We service a multitude of entrance systems and security products. 
We can offer annual maintenance and servicing contracts to ensure your entry systems are working at all times. We can also offer one off call outs and 24/7 emergency call outs for our contract customers. 
Please visit GATE MAINTENANCE & SERVICING or give us a call on 0161 406 5912 and a member of the team will be happy to help.